Troubleshoot guide for users whose workouts have dropped from the app.
If you've opened your Vitruvian App, and found that your workouts and training history is no longer showing in-app, this can be one of three potential causes:
Incorrect login method used when signing-in.
Your All Access Membership has bounced back.
Potential in-app bug.
1. Incorrect login method used when signing-in.
We have designed the Vitruvian app so that a person's personal mobile device contains that user's unique training profile.
This is so that anyone in the household can connect to the machine using their personal device, and know that the machine will load according to that user's capabilities and unique strength levels.
There are four different login methods you can use to create your in-app training profile:
Google
Apple
Facebook
Email-Password combination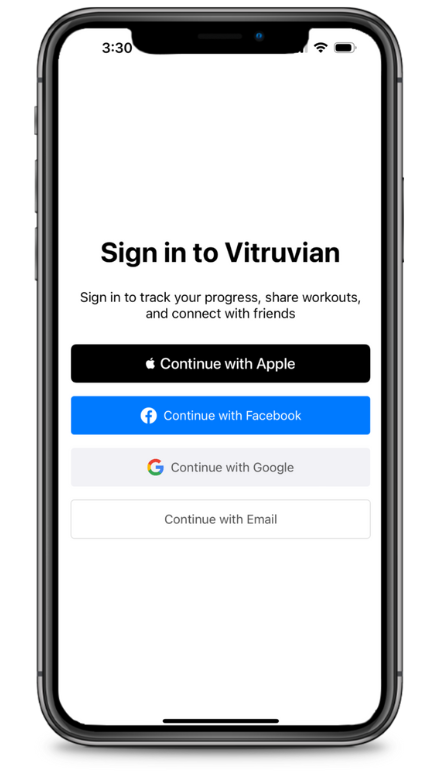 Login methods act like keys to a lock, each one generating a unique user ID number.
Let's say when you first downloaded your Vitruvian App, you use an email-password combination to create your training profile. 6 months later, you get a new phone, download the app and use Apple login instead, the app creates a new training profile with your new key, and now you're like, "Where is my workout history?"
Your training profile can be available in as many devices are you'd like, provided you are using the same login method to access your unique profile.
Unless you're logging out of a specific device so that another user can log into theirs, ideally there shouldn't be a need to log in-and-out on a recurring basis.
2. All Access Membership payment has bounced back.
Without an active All Access Membership, your exercise history will not be visible.
If you have missed a monthly payment, simply log back into your billing account through https://billing.vitruvianform.com/ to confirm the status of a billing cycle.
3. Potential in-app bug.
Sometimes there may be an issue within the app itself. In this case, simply report it to our development team and they'll get onto a fix which should be released in an upcoming app update.
Before launching a bug report, check that your mobile device operating system is up to date and that you are running the latest Vitruvian App version.
To send the bug report, open the Viturivan App and shake your phone. This will prompt a pop-up bug report, which when sent, goes straight to the software team.